Return to the Forbidden Planet
People
> Director - Bob Carlton
> Designer - Rodney Ford
> Musical Supervisor and Arrangements - Julian Littman
> Musical Director - Greg Last
> Lighting - Mark Dymock
> Sound - Rick Clarke
> Choreographer - Fredrick Ruth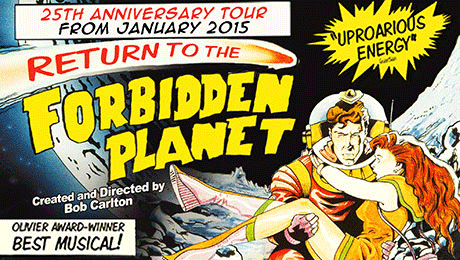 Return to the Forbidden Planet is the BIGGEST rock 'n' roll party in the universe exploding with over 30 cosmic classics such as Great Balls of Fire, Good Vibrations, Teenager in Love, The Young Ones, Don't Let Me be Misunderstood, The Monster Mash, Wipeout, Young Girl, Born to be Wild, Gimme some Lovin' and many, many more…
Join Captain Tempest and his fearless crew on an intergalactic adventure into hyperspace… and beyond. Packed with rocking red-hot hits, you'll be shakin', rattlin' and rollin' in the aisles. The multi-talented all-singing, all-dancing cast of actors and musicians will transport you to another galaxy, playing over 30 of your favourite tunes on no less than 24 instruments. Throw in a mad scientist, a huge green tentacled monster and a rock 'n' roller-skating robot for a show you'll remember for light years to come! Fasten your seatbelts, set your ray guns to stun and get ready for a moonwalking musical of meteoric proportions!
Your in-flight entertainment is guaranteed!
Prepare For Blast Off!