Legally Blonde
Details
Opéra Garnier, Monte Carlo, 16th-20th August 2017
Reviews
"One of the most upbeat and fun nights out at the theatre"
Broadway World
"Foster's production is a visual treat"
The Daily Telegraph
"Shiny, bright, wonderful"
OffWestEnd
People
Music and Lyrics by Laurence O'Keefe and Nell Benjamin
Book by Heather Hach
Based on the novel by Amanda Brown and the Metro-Goldwyn Mayer Motion Picture
Directors – Nikolai Foster and Lee Proud
Designer – Matthew Wright
Orchestrations and Musical Supervisor – Sarah Travis
Choreographer – Lee Proud
Musical Director – Michael Riley
Lighting Designer – Ben Cracknell
Sound Designer – Tom Marshall
Video Designer – Louise Rhodes Brown
Casting Director - Kay Magson
Assistant Director - Siobhán Cannon-Brownlie
---
LEGALLY BLONDE is presented through special arrangement with Music Theatre International (MTI).
Winner of BEST MUSICAL: GRAND PRIZE and BEST FEMALE ACTOR IN A LEADING ROLE at the DIMF 10th Anniversary Awards, South Korea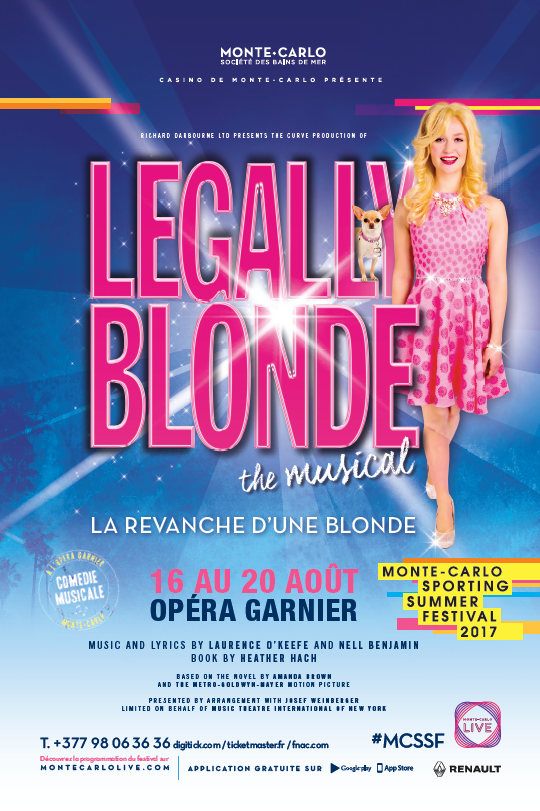 "OMG you guys… Elle Woods is coming to Monaco!"
Following last year's smash hit Made at Curve production and award winning visit to the Daegu International Musical Festival, Richard Darbourne Limited and Curve are thrilled to be taking Legally Blonde to Monte Carlo this summer.
The award-winning West End and Broadway show and smash hit musical comedy is given a new lease of life in Curve's production, co-directed by Nikolai Foster and Lee Proud – a witty, fun-filled and feel-good show that's all about following your dreams and staying true to yourself. 
CAST: Ishmail Aaron, Charlie Allen, Jamal Andreas, Andy Barke, Delycia Belgrave, Darren Bennett, Katie Bradley, Susie Chaytow, Harrison Clark, Robert Colvin, Sally Frith, Kelly Hampson, Sarah Ingram, Aisha Jawando, Nathanael Landskroner, Ellie Leah, Gerard McCarthy, Marianna Neofitou, Jessica Paul, and Ed Wade.