Pride & Prejudice
People
> Adapted by Joannah Tincey
> Director – Abigail Anderson
> Designer – Dora Schweitzer
> Lighting Design - Simon Wilkinson
> Original Sound Design - Mark Melville
> Starring - Joannah Tincey & Nick Underwood
Reviews
"Hilarious and inventive... it's a work of genius"
Blog of Theatre Things
"An adaptation of masterful clarity...delightful"
The Oxford Times ★★★★★
"Immaculate...a faithful, yet fresh, production of a classic tale"
Please Mind The Blog ★★★★★
"Sardonic...Ingenious...Incredible"
The Stage ★★★★
"A truly important drama"
The Reviews Hub ★★★★
"Funny, witty and brilliant"
A Younger Theatre ★★★★
What our audience have said:
"BRILLIANT. I enjoyed it so much I was close to embracing my wife."
★★★★★
"Stunning, amazing, superb, brilliant...it's got to be the best experience in the theatre I have had in a long while, if not ever."
★★★★★
"I was just mesmerized, it was amazing! Truly talented and versatile actors, a great show! Thanks to everyone involved."
★★★★★
"A brilliant portrayal. Dramatic, funny, clever and stunning energy. The best production of its type I have ever seen."
★★★★★
"Wonderful, wonderful production. The actors were nothing short of astounding, a flawless giant multi-dimensional puzzle in which they did not once slip into the wrong character. But also astounding that they were brilliant at the comedy but ALSO the sad and difficult scenes were very moving. Astonishing."
★★★★★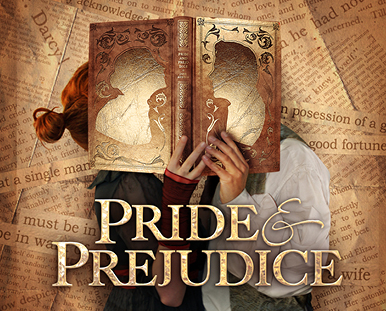 > BOOK TICKETS BELOW
Austen's timeless story of wit and romance…
A sparkling and faithful reimagining of one of the most loved stories of all time, Pride and Prejudice is replete with humour, romance and a giddy cast of characters. Funny, fast and heartwarming, the chance to catch Darcy, Lizzy and the whole world of Austen brought to life by just two actors is the perfect pre-Christmas treat.
---
This gem of a theatrical production" (British Theatre Guide) is now playing at Jermyn Street Theatre until December 21. Book your tickets HERE.
October