Pride & Prejudice
People
> Adapted by Joannah Tincey
> Director – Abigail Anderson
> Designer – Dora Schweitzer
> Lighting Design - Simon Wilkinson
> Original Sound Design - Mark Melville
> Starring - Joannah Tincey & Nick Underwood
Reviews
"A uniquely theatrical experience...an acting tour de force...highly entertaining"
★★★★★ Oxford Times
"Simply the most entertaining and intellectually stimulating evening spent in the theatre"
The Hexham Courant
"A delightful gem of theatre that pulses with comedy and energy…witty, engaging and not to be missed"
A Younger Theatre
"A fantastically quick-witted masterpiece!"
Oxford Daily Info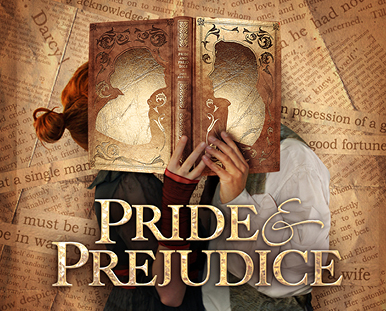 > BOOK TICKETS BELOW
Pride and Prejudice is back!
21 characters, 2 actors and one of the most romantic stories of all time – touring the UK in Autumn 2016.
A fresh and faithful adaptation of one of the nation's best loved novels, this is a highly inventive production that sparkles with wit and style. Fun, fast and romantic – this chance to catch the five Bennett sisters and the whole world of Austen brought to life by just two actors is a treat not to be missed.
> UK Tour Listings
Choose your month here: October / November
October